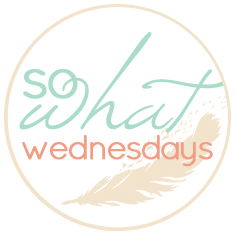 So my cousin's blog,
Ramblings of a Suburban Mom
, links up to this cool blog,
Life After I Dew
, and tells everyone all the dumb stuff she does. It's Called "So What Wednesdays" or something like that. Hey I do plenty of dumb stuff. So I thought I better link up.
So here it goes.
SO WHAT IF....
...I only write in my blog like once a month...ok .... maybe even less then that.
...if I told my youngest daughter I was really excited to go to her band performance and then when she asked me last night for details on when we were leaving etc. I had no idea what she was talking about.
...I make fun of all the stupid shows my teenagers watch and then catch myself deeply engrossed them...like "Pretty Little Liars", "Glee", "The Following"etc. I will not go on...too embarrassing.
...if every night this week I set my alarm to get up early to go running and then slept in.
...if I made nachos using pork rinds because they have zero carbs
...if I never listen listen to voicemail messages and I just call back and say "Hey what did you want?"
...if I stop at the grocery store every night on the way home from work because I can never make a commitment to a dinner in the morning because it is sooo far ahead of time.
...I didn't eat any Easter candy during the actual holiday because I was dieting and now that it is 75% off I am just packing it away!